Chamber Hosts Panel on BDS
Tuesday, 13 Sep – Sunday, 16 Oct 2016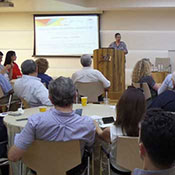 The Chamber together with the Law Offices of Herzog, Fox, & Neeman hosted Sima Vaaknin, Director General of the Ministry of Strategic Affairs, Eran Shayshon VP APCO Worldwide, and Daniel Reisner, partner in Herzog Fox & Neeman in charge of Public International Law, Defense and Homeland Security, at a well-attended breakfast meeting panel on BDS (Boycott, Divestment and Sanctions).
There is growing concern amongst Chamber members and the Industry as a whole of the economic and business implications of the BDS "movement".

The speakers gave an in depth overview of the current situation and the battle ground, both in the legal sphere and "on the streets". While in Europe BDS is gaining some momentum, in the US, due to the stricter legal and regulatory environment prohibiting sanctions, the BDS movement has largely been kept to university campuses and other sporadic locations. Nevertheless, this is not something to overlook, and the State of Israel is deploying considerable resources into monitoring and fighting the BDS efforts.